Don't Open the Door
by Richard Roques
Waterloo East Theatre
3rd to 15th August 2021 7.30pm, Sundays at 4pm
Tickets £14 • Box office 020 7928 0060 • Book here
An old woman comes back to consciousness on the sofa in her living room. Leaning over her is a stranger. She can't quite remember what happened. Did she fall down the stairs, or was she pushed?
I have to go. I called an ambulance.
Are you ill?
Not for me. For you.
I don't want an ambulance. Call them back.
I think you need one.
You've moved my ornaments around.
No I haven't. You think we all robbers.
Who will they believe? You or me?
Bitch. He phones: We don't need an ambulance. She's okay.
What are you doing?
What do you think? I'm going.
Stay, just for a while.
Don't Open the Door won the Windsor Fringe Festival First Prize judged by Fay Weldon. She wrote: `A really assured piece of writing, shrewdly written with real understanding and humour. All our preoccupations are taken out and looked at, while we long to know what happens next.'
Press: 020 7684 7463
richard@thehistoryoflondon.com
The performance will last approximately one hour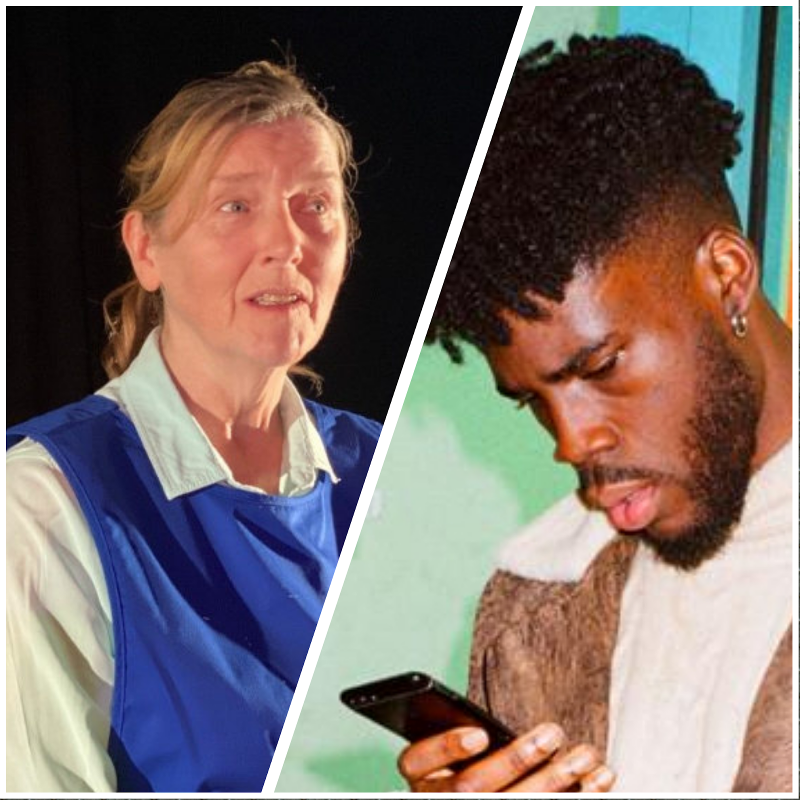 Janet Behan / Alessandro Babalola
Janet Behan, The Woman
Janet's acting career spans almost 45 years. Work includes plays at the National Theatre, Royal Court, Lyric Belfast, Gate Dublin, Chichester Festival and television includes Eastenders, Silent Witness, London's Burning and The Bill. As a writer, her play Brendan at the Chelsea (re-imagining her celebrated Uncle Brendan's final days at the Chelsea Hotel) was a sell-out success both at the Belfast Lyric and on tour to New York, Dublin and Derry. She will be performing her solo play Why Shouldn't I Go (***** TheUpcoming) at The Lantern Theatre, Brighton in September.
Alessandro Babalola, The Man
Alessandro Babalola is an actor and writer of Nigerian descent, born and raised in Leyton, East London. After graduating from the Arts University of Bournemouth he performed in various short films, Off West End plays and Fringe Theatre productions before landing Flesh and Bone (National Theatre, Soho Theatre, Fringe First) with Unpolished Theatre company for which they won an Olivier Award in 2019. This led to him being cast in season 3 of Top Boy on Netflix and another Netflix original, Cursed. He recently completed filming on ITV's series The Unforgotten, Guy Ritchie's upcoming film Wrath Of Man and Nigerian Netflix film Blackmail. Alessandro has written two plays; Invincibility which premiered in 2019 and The Perfect Companion which first showed at the Pleasance Theatre in November 2019.
Richard Roques, writer/director
Richard has written nine full length plays for the theatre and a number of short stories. Whistleblower - the story of Edward Snowden was described in the Guardian as `...always watchable. Events unfold with a thriller-like momentum…' He is the author of two novels and is a walking tour guide in London with a repertoire of forty different walks.
Thanks:
Kirstin Shine Polman
Annie Sale
Doug Meggison
Angela Hughes
Claire Ross
Don't Open the Door, Waterloo East Theatre, 3rd to 15th August 2021 7.30pm, Sundays at 4pm
Tickets £14 • Box office 020 7928 0060 • Book here